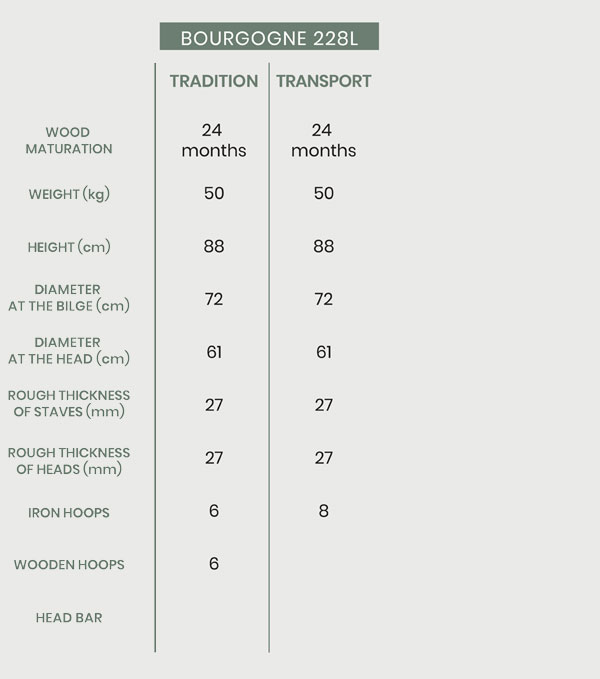 ÉGALEMENT DISPONIBLE : CHÊNE AMÉRICAIN Disponible en 225L et 300L CHÊNE D'EUROPE DE L'EST Disponible en 225L
ÉGALEMENT DISPONIBLE :
CHÊNE AMÉRICAIN Disponible en 225L et 300L
CHÊNE D'EUROPE DE L'EST Disponible en 225L
TRADITIONAL MERCIER TOASTS
Since 1960, Tonnellerie Mercier has become a master in the art of traditional toasting.
Slow toasting to the core, at a controlled temperature, is characteristic of
Tonnellerie Mercier, giving your wines volume on the mid-palate and length on the finish.
Ranging from light to heavy, our traditional toasts will meet your specific
requirements for ageing your wines:
Light toast (LT) :
fresh wood and minerality, highlighting the fruit, providing structure and volumewith a limited aromatic influence
Medium toast (MT) :
aromatic complexity (vanilla, floral, fruity, toasty), roundness and providing moderate structure
Medium plus toast (MT+) :
predominant presence of toasted notes (toasted bread, spices, toffee, chocolate), intense aromatic contribution
Heavy toast (HT) :
characterised by the presence of dominant woody, chocolate and roasted notes
NEW FROM MERCIER
The Dune Toast completes the range of traditional Mercier toasts with
a unique method combining a controlled toasting time and the use of
a dedicated brazier with an air circulation system for a gentle and very lightly marked toast.
It gives the wine suppleness, complexity and elegance as well as minerality and respect for its terroir.